My spiritual cookies this week relate to creative activity. First, here is one of my paintings in the Balance series:
Second, I'm updating a fiber art piece I made last year, which relates to illumination, in a tongue-in-cheek fashion. (I'll add the whole piece to my gallery when it is fully revised):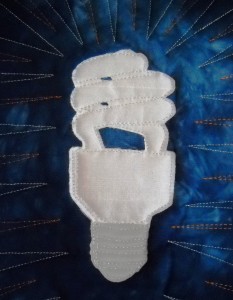 Third, I am (at last) in the flow of creating a commissioned prayer/meditation Signature quilt. I was antsy to start it sooner, but I think I needed to experience the infusion of love  (mentioned in my last post) prior to starting this piece for her. I am grateful she has been so understanding about the timing, and I know she is getting a better healing art piece because of her patience.
Fourth, I am looking forward to facilitating a workshop on Inner Wisdom next weekend, and was able to write a guest post for the talented Michele Bergh on this topic, so near and dear to my heart.  I especially know Michele through her webhosting services, but she is also an artist and a healer.
And my last cookie: I got to partake in a visual feast at the Minnesota Contemporary Quilter's meeting. I didn't know about "show and tell" for grownups until I joined this group, and it is not to be missed.
A pretty rich week, no? And what were your spiritual cookies this week? Care to share?